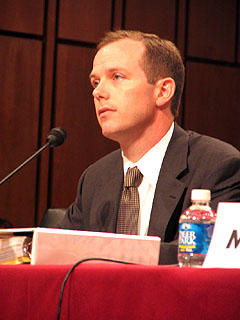 Four associates of disgraced lobbyist Jack Abramoff were asked to resign from the Greenberg Traurig firm after they received side payments in violation of firm policy, The Daily Business Review reports. The lobbyists were Kevin Ring, John Van Horne, Michael Smith and Stephanie Leger. All left the firm but continue to lobby in Washington, D.C. Ring, pictured to the right, works for Barnes & Thornburg and still represents tribal clients. The Hopi Tribe of Arizona, however, fired him after he refused to testify before the Senate Indian Affairs Committee. Van Horne started his own firm and Smith got hired by Cornerstone Government Affairs. Leger is working in the Washington office of Louisiana Gov. Kathleen Blanco (R). Fred Baggett of Greenberg Traurig testified at the November 2, 2005, Senate Indian Affairs Committee and gave the names of the lobbyists. The Daily Business Review said all four have been referred to the Department of Justice for possible action. Get the Story:
Greenberg Traurig Executive Describes Misconduct by Abramoff, Other Lobbyists
(The Daily Business Review 11/17) November 2, 2005, Hearing:
Senate Indian Affairs Committee
Relevant Documents:
Exhibits from Hearing
|
Senate Witness List / Testimony
Relevant Links:
Council of Republicans for Environmental Advocacy -
http://www.crea-online.org/crea
Related Stories:
Opinion: Something creepy about Federici's CREA
(11/16)
White House cites cooperation with Abramoff probe
(11/16)
Ex-White House official claims 'set-up' over Abramoff
(11/15)
Abramoff scandal hangs over Republican leaders
(11/14)
Senator denies links to Abramoff scandal
(11/14)
C-SPAN Moment: Putting the screws to Steve Griles
(11/11)
Abramoff scandal should make everyone angry
(11/11)
Abramoff sought $9M to set up meeting with Bush
(11/10)
Republican accepted money from Abramoff's tribes
(11/9)
Abramoff is Republicans' biggest nightmare
(11/8)
Ohio Congressman sets up Abramoff defense fund
(11/8)
Not guilty pleas in Abramoff-related murder
(11/8)
Report: Griles had repeated contacts with Abramoff
(11/7)
Ohio Congressman subpoenaed in Abramoff case
(11/7)
Column: Where in the world is Italia Federici?
(11/7)
Column: Ralph Reed used 'wackos' to fight tribes
(11/7)
Opinion: The ugly adventures of Jack Abramoff
(11/7)
Editorial: Steve Griles and the revolving door
(11/4)
Letters to Norton drafted by Abramoff, staff
(11/4)
Abramoff used charity to raise money for DeLay
(11/4)
McCain may introduce lobbying reform legislation
(11/4)
DeLay staff helped Abramoff gain access to Norton
(11/3)
Griles, Rossetti clash at Abramoff hearing
(11/3)
Ralph Reed fought tribes with Coushatta money
(11/3)
Griles, Rossetti to testify on Coushatta Tribe
(11/2)
Griles called to testify on Abramoff scandal
(11/1)
Norton associate to testify at Abramoff hearing
(10/28)
Jack Abramoff lobbying probe touches DOI
(10/26)
Date change for hearing on lobbying scandal
(10/21)
Senate Indian Affairs schedules lobbying hearing
(10/18)
Abramoff used lobbying cash to defeat Internet bill
(10/17)
GOP feels threatened by Abramoff scandal
(10/17)
Ralph Reed worked for Abramoff -- again
(10/17)
Abramoff scandal takes toll on GOP, White House
(10/14)
Two Abramoff tribes gave $10K to New Hampshire GOP
(10/14)
Third suspect held in murder linked to Abramoff
(10/14)
Former official pleads not guilty in Abramoff probe
(10/10)
Bush nominee withdraws over ties to Abramoff
(10/10)
Indicted ex-Bush official worked for NIGA, tribes
(10/7)
Special prosecutor sought in Abramoff investigation
(10/6)
Former Bush official indicted in Abramoff probe
(10/6)
Two men held without bail in Abramoff-related case
(10/3)
Three arrested in shooting linked to Abramoff
(9/28)
Abramoff also boasted of ties to John Ashcroft
(9/27)
Ex-White House official sought to close GovWorks
(9/27)
Column: Abramoff scandal a sign of GOP corruption
(9/27)
Editorial: Abramoff scandal taints the White House
(9/26)
In court, Abramoff blamed partner for bad deal
(9/26)
Nominee: Abramoff bragged of contact with Karl Rove
(9/23)
Ex-Bush official blames arrest on Abramoff probe
(9/22)
Abramoff scandal may ensnare more Republicans
(9/22)
Arrested Bush official has questionable ties
(9/21)
Column: Abramoff scandal visits the White House
(9/21)
White House official arrested in Abramoff probe
(9/20)
Utah congressman hired ex-Abramoff associate
(09/02)
Tribal leader wants probe of Griles-Abramoff links
(8/31)
Abramoff tried to hire Griles at lobbying firm
(8/29)
Choctaws were Jack Abramoff's first tribal client
(8/22)
Abramoff makes first court appearance on charges
(8/19)
Ex-Abramoff associate charged in Montana for poaching
(8/19)
Abramoff to cooperate with Miami murder probe
(8/17)
Ohio Congressman vouched for indicted Abramoff pal
(8/16)
Authorities feared Abramoff would flee to Israel
(8/15)
Jack Abramoff, partner indicted on bank fraud charges
(8/12)
A once powerful Abramoff falls quickly from grace
(8/12)
Coushatta Tribe footed DeLay's trip to the opera
(8/12)
Grand jury probe of Abramoff cut short by Bush
(08/08)
McCain defends GOP senator tied to Abramoff
(07/28)
Opinion: Mississippi Choctaws not the victims
(07/28)
Justice nominee questioned on ties to Abramoff
(07/27)
Editorial: Tribal lobbying scandal a 'blockbuster'
(07/18)
Group claims Karl Rove linked to Jack Abramoff
(07/15)
Ralph Reed defends work on behalf of Jack Abramoff
(07/14)
Editorial: Mississippi Choctaws victims of own greed
(07/11)
Choctaws billed for meals at Abramoff restaurant
(07/06)
Pombo asks DOJ to widen investigation of Abramoff
(07/06)
Choctaws mum on donation to Christian Coalition
(07/06)
Choctaw cash flowed freely to Ralph Reed for years
(07/06)
McCain bashes Norquist for ripping off tribes
(07/06)
Opinion: Tribes share blame for Abramoff scandal
(7/4)
Time: Abramoff gave free dinners to Congressmen
(7/4)
Hayworth targeted for ties to Abramoff, DeLay
(7/4)
Column: Abramoff defrauded Saginaw Chippewa Tribe
(7/1)
Column: Abramoff defrauded Saginaw Chippewa Tribe
(7/1)
Column: Ralph Reed worshipped casino god
(7/1)
Reed backs lottery proposal he fought in Alabama
(7/1)
Rabbi says e-mail response to Abramoff was a joke
(6/30)
Editorial: Maybe Abramoff should be sent to jail
(6/30)
Abramoff cut Ralph Reed off from Choctaw money
(6/29)
Column: Kosher deli owner brought home the pork
(6/29)
Hopi Tribe drops lobbyist who worked with Abramoff
(6/28)
Hayworth downplays links to Abramoff scandal
(6/28)
SagChip leader feels vindicated on Jack Abramoff
(6/28)
Lobbying Report: Mississippi Band of Choctaw Indians
(6/27)
Choctaws hire three ex-Abramoff lobbyists
(6/27)
Investigation links Reed, Norquist to Abramoff
(6/27)
Column: E-mail trail shows how to scam tribes
(6/27)
Bit player takes center stage in Abramoff scandal
(6/27)
Political Play of the Week: Senate lifeguard
(6/27)
Opinion: Ralph Reed helps launder tribal money
(6/27)
Harjo: Tribes lobby to fleece their own people
(6/24)
Choctaws hire lobbyist accused in Abramoff fraud
(6/24)
Editorial: Reed lied about taking money from Choctaws
(6/24)
Opinion: Reed didn't lie, he just followed the law
(6/24)
Ralph Reed pressed by rival to document tribal ties
(6/24)
Column: Jack Abramoff's Choctaw Nation
(6/24)
Column: No limits to Republican sleaze in Washington
(6/24)
Editorial: Washington in worst lobbying scandal ever
(6/24)
Senate committee plans to issue lobbying report
(6/23)
Under scrutiny, Choctaw tribe goes into hiding
(6/23)
Mississippi Choctaws focus of Senate lobbying hearing
(6/23)
Column: Wasichus testify on lobbying scandal
(6/23)
Update on Senate hearing into lobbying scandal
(6/22)
Mississippi Choctaws at center of lobbying hearing
(6/22)
Coushatta Tribe gave millions to lobbyists, campaigns
(6/22)
Influence peddling on the rise in Washington
(6/22)
Another hearing on Abramoff lobbying scandal
(06/21)
White House told DOI to pay attention to Abramoff
(06/20)
Republican tied to Abramoff pushes anti-gaming bill
(06/17)
Opinion sought on GOP group's use of tribal funds
(6/16)
Ads target Ney for role in Abramoff scandal
(6/16)
DOJ's Public Integrity Section leads Abramoff probe
(6/15)
GOP activist won't testify at lobbying hearing
(06/14)
Ralph Reed hasn't been hurt by Abramoff scandal
(06/13)
Tigua Tribe feels 'betrayed' by Jack Abramoff
(06/13)
Lawmaker under scrutiny for links to Abramoff
(06/10)
Republican leader defends letter to Gale Norton
(06/10)
Senate hearing to focus on Norquist and Reed
(06/09)
Opinion: Abramoff and Norquist like 'cat burglars'
(06/09)
Gaming leads to new concerns about lobbyists
(05/26)
Bloomberg: Abramoff tribes gave $1.4M to Congress
(5/19)
Tribal funds helped Abramoff's failed Jewish school
(5/18)
Abramoff tribes gave $153K to Montana delegation
(5/16)
Column: Tribal bucks went to Republican interests
(5/13)
Grand jury in Abramoff probe subpoenas Democrats
(5/13)
Familiar problems aired at recognition hearing
(05/12)
Column: Ney investigated for Abramoff donations
(5/11)
Abramoff refused to appear at hearing on high fees
(5/10)
Abramoff lobbying scandal prompts look at rules
(5/9)
Abramoff tied to yet another Congressional trip
(5/9)
Abramoff scandal an issue in Georgia campaign
(5/9)
Abramoff accused of double-dealing another client
(5/6)
Coushatta tribal member went on DeLay golf outing
(5/6)
Tom Cole recuses himself in any probe of DeLay
(5/5)
In the Loop Contest: Name that Washington scandal
(5/4)
Abramoff based political activities on Jewish faith
(5/4)
Travel paid by Abramoff said to violate ethics rules
(5/4)
New legislation seeks overhaul of lobbying regulations
(5/4)
More Congressional travel linked to Abramoff
(5/3)
Jack Abramoff breaks silence on lobbying scandal
(5/2)
Abramoff a target in federal bank fraud probe
(5/2)
McCain won't touch lawmakers in probe of Abramoff
(4/28)
Ney signed onto bill after using tribe's luxury suite
(4/28)
Recall of anti-Abramoff Sag Chip leaders debated
(4/28)
More ties between Abramoff and DeLay detailed
(4/27)
Former DeLay chief of staff lobbied for NIGA
(4/26)
Tim Giago: White lawyers growing fat off tribes
(4/26)
Abramoff used credit card to pay for DeLay's airfare
(4/25)
Column: Good Indians or bad Indians? Hard to tell
(4/25)
Money tribes gave to Abramoff ended up in Israel
(4/25)
Saginaw Chippewa Tribe gave $25K to GOP tax group
(4/25)
Editorial: Saginaw Chippewa feud needs to end
(4/25)
Novak: McCain hopes for indictment of Abramoff
(4/22)
Meskwakis gave $50K to group founded by Norton
(4/22)
One GOP group won't give records to McCain
(4/22)
Abramoff and Scanlon 'still hounding' Sag Chips
(4/22)
Coushatta Tribe sues Abramoff, Scanlon in state court
(4/22)
Abramoff defends lobbying work for tribal clients
(4/22)
McCain subpoenas GOP groups linked to Abramoff
(4/21)
Morongo Band denies any ties to Abramoff scandal
(4/21)
DeLay used skybox funded by Abramoff's tribes
(4/21)
Democrats to introduce bill to address Abramoff
(4/21)
House Republicans offer ethics probe into DeLay
(4/21)
Congressman tied to Abramoff failed to pay tribal tab
(4/20)
Hastert pays tab for fundraiser at Abramoff restaurant
(4/20)
Vitter, Hastert never paid Abramoff restaurant tab
(4/19)
DeLay denies wrongdoing over Abramoff funded trips
(4/19)
Opinion: McCain right to probe fleecing of tribes
(4/19)
Recall papers certified against anti-Abramoff leaders
(4/19)
Time: FBI to depose ex-associate of Abramoff's
(4/18)
Foe of Texas tribes denies knowing Abramoff
(4/18)
Ties to Abramoff an issue for Ralph Reed campaign
(4/18)
Opinion: Lobbying scandal cloaked in religion
(4/18)
Sen. Burns: Support for Montana tribes is known
(4/18)
Editorial: Burns should have said no to Abramoff
(4/18)
Pombo asked again to investigate Abramoff
(4/15)
DeLay's ties to Abramoff a focus of federal probe
(4/13)
Opinion: Abramoff is DeLay's Monica Lewinsky
(4/13)
'Where the hell were you when we were poor?'
(4/12)
Column: Treatment of tribes by lobbyists an outrage
(4/12)
Newsweek: Abramoff offered to expose DeLay, others
(4/11)
Assessment: The Abramoff/DeLay scandal
(4/8)
Salon: Abramoff sold DeLay to desperate tribes
(4/8)
Opinion: When ripping off Indians is acceptable
(4/8)
GOP rallies to DeLay's defense amid new reports
(4/7)
Abramoff helped secure funding for 3rd DeLay trip
(4/6)
Burns says Michigan delegation backed school funds
(04/04)
Editorial: Burns has chance to restore Indian funds
(03/31)
GOP letter to Norton came after Abramoff sent checks
(03/30)
Abramoff previously questioned over billing
(03/30)
Ralph Reed says he too was 'deceived' by Abramoff
(3/28)
Both sides fighting tribe have ties to Abramoff
(03/25)
Column: Abramoff, Scanlon had help scamming tribes
(03/22)
Jena Choctaw Band back in spotlight in Louisiana
(03/22)
McCain plans to finish hearings on lobbyist scandal
(3/21)
Opinion: Ralph Reed did work for casinos, not the Lord
(3/21)
Coushatta Tribe hires law firm linked to DeLay
(3/18)
Chairman: Montana tribes support Senator Burns
(3/18)
Senate Finance Committee investigates Abramoff
(3/17)
Vitter won't say why he OKed Abramoff fundraiser
(3/17)
DeLay denies wrongdoing on trip linked to tribe
(3/16)
Vitter responsible for anti-tribal appropriations rider
(3/16)
Hayworth predicts DeLay will weather ethics storm
(3/15)
Column: Strange bedfellows in Abramoff scandal
(3/15)
Editorial: Investigate overseas trip paid by Abramoff
(3/15)
Griles fought casino opposed by Abramoff client
(3/14)
Tribe gave $75K to group founded by Norton
(3/14)
Tribe, gambling firm funded DeLay's overseas trip
(3/14)
Editorial: Facts don't look good for Senator Burns
(3/14)
DOI investigates contacts with group started by Norton
(03/03)
Vitter denies helping Abramoff's former client
(03/02)
Report: Former Norton organization subpoenaed
(3/1)
Tribes gave $175K to group founded by Norton
(2/28)
Tribal lobbying scandal hurts ex-Abramoff firm
(02/17)
Tigua Tribe settles dispute over Abramoff fees
(02/14)
Sag Chip recall targets anti-Abramoff tribal leaders
(2/11)
Editorial: Washington 'sharks' ate tribe for lunch
(02/08)
Donations funneled through Abramoff unaccounted
(2/7)
Commentary: Tighten up lobbyist rules
(01/18)
Commentary: Tribal lobbyist scandal is familiar tale
(1/13)
Probe sought of Congressman linked to lobbyists
(01/07)
Editorial: 'Shameful' dealings of Washington lobbyists
(1/6)
Abramoff and Scanlon scandal won't go away
(12/20)
Editorial: Ney's judgment 'clouded' by Abramoff
(12/20)
Ney to meet with ethics panel over Abramoff ties
(12/16)
Congressman subject of inquiry for Abramoff ties
(12/15)
Lobbyists say Abramoff probe has run its course
(12/13)
Congressman questioned during lobbyist probe
(12/10)
Editorial: Ney not exactly a victim in Tigua case
(12/03)
Abramoff 'totally in bed' with anti-gaming forces
(11/29)
McCain eyes reform of lobbying disclosure laws
(11/24)
Order freezing Abramoff's assets lifted in lawsuit
(11/24)
Mississippi Choctaw lawyer referred Abramoff
(11/22)
Former Ney chief of staff worked with Abramoff
(11/19)
High-priced lobbyist scam linked to lawmakers
(11/18)
Coushatta Tribe sues ex-lobbyists for $32M
(11/17)
Tigua Tribe to testify at Senate lobbying hearing
(11/16)
Abramoff's assets frozen in employee case
(11/15)
Vitter 'conned' by group opposing tribe
(11/12)
GOP critic of McCain received tribal donations
(11/08)
Author: Abramoff, Scanlon likely to be indicted (10/28)

Senate panel asks Coushatta Tribe for tapes
(10/27)
Ralph Reed paid $4.1M to oppose tribes
(10/26)
Two more lawyers linked to lobbyist scandal
(10/21)
Online Chat: Abramoff 'close friend' of DeLay
(10/20)
Christian Coalition still after Poarch Creeks
(10/19)
Congressman denies knowing of tribe's backing
(10/18)
Opinion: Lobbyist scandal goes all the way to Bush
(10/15)
Congressman's anti-gaming push backed by tribe
(10/15)
Tigua Tribe mum on Washington lobbyists
(10/12)
House Resources asked to investigate lobbyists
(10/8)
Another tribe considers lawsuit against lobbyists
(10/7)
DeLay rebuked yet again for flaunting influence
(10/7)
Coushatta Tribe to sue lobbyists for $32M
(10/4)
Lobbyist scandal reaches to top levels of GOP
(10/4)
Choctaw Tribe's lobbying documents kept secret
(10/4)
Documents detail lobbyists' role in tribal elections
(10/4)
Salon: Tom DeLay allowed tribes to be 'slickered'
(10/4)
Pueblo leader says lobbyists' high fees not worth it
(10/1)
Texas AG asked to investigate Abramoff, Scanlon
(10/1)
DeLay rebuked for trading influence on House floor
(10/1)
Ex-tribal lobbyists slammed in Senate hearing
(9/30)
Abramoff mum at hearing while Scanlon a no-show
(9/30)
Column: Lobbyists lurked in 'cesspool of greed'
(9/30)
Washington lobbyists called before Senate panel
(9/29)
Editorial: Send lobbyist hogs to the slaughterhouse
(9/29)
Tigua Tribe outraged over being played as 'moronic'
(9/28)
Tribes told to donate to lobbyists' foundation
(9/28)
Editorial: Actions of tribal lobbyists 'loathsome'
(9/28)
Lobbyists worked for, against 'moronic' Tiguas
(9/27)
Group opposing Poarch Creeks tied to tribal lobbyists
(09/16)
Coushattas used lobbyists to spy on tribes, critics
(09/13)
Bush strategist now knows source of tribal funds
(09/01)
Bush strategist claims no knowledge of funds
(8/31)
Bush-GOP strategist admits taking tribal money
(8/30)
Senate hearing on tribal lobbying probe set
(8/26)
Coushatta member threatened over recall effort
(08/09)
Coushatta Tribe's lobbying records subpoenaed
(07/23)
Hearing on high lobbying fees expected in September
(07/16)
GOP strategist denies secretly taking tribal money
(7/15)
Tribal money secretly funneled to GOP strategist
(06/25)
Busy Indian Affairs Committee hits snag on big issues
(06/17)
Indian Affairs Committee activity this week
(6/15)
Saginaw Chippewa leader who paid lobbyists ousted
(06/04)
Indian Country awaits outcome of lobbying probe
(05/18)
Tribal chairman says $120K fee to Abramoff worth it
(05/18)
Republican governors report biggest donor in 2002
(05/04)
Saginaw Chippewa Tribe wonders where $14M went
(04/20)
McCain demands documents from lobbyist, PR exec
(04/12)
Coushatta treasurer accuses NIGC of lax oversight
(04/12)
Choctaw chief Martin defends embattled GOP lobbyist
(04/09)
McCain pushing Choctaw tribe to cooperate with probe
(4/8)
Coushatta leaders used tribal money to pay lobbyists
(4/8)
Coushatta Tribe paid $32M to lobbyist Jack Abramoff
(4/6)
McCain aggressive in pursuing lobbyist records
(4/5)
McCain demands documents for tribal lobbyist's work
(3/30)
Embattled lobbyist signs deal with another firm
(03/25)
Embattled tribal lobbyist gave to Conn. Congressman
(03/10)
Saginaw Chippewa Tribe hires new lobbying firm
(3/9)
McCain begins investigation into high tribal fees
(3/4)
Pueblo governor says $1M fee to PR firm not worth it
(3/3)
McCain calls for investigation into tribal spending
(2/27)
Four tribes spent $45M on lobbying and PR firms
(2/23)
GOP lobbyist scores big with tribes
(04/03)
Embattled tribe gets new lobbyist
(12/13)