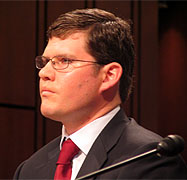 Shawn Vasell, a former associate of disgraced lobbyist Jack Abramoff and a former staffer for Sen. Conrad Burns (R-Montana), pleaded guilty to poaching and trespassing in Montana, The Helena Independent Record reports. Vasell pleaded guilty to one count of hunting without a license and a second count of hunting on private property without landowner consent, the paper said. He fined $670 and had to pay $500 restitution and cannot hunt, fish or trap in Montana for two years. Vasell's crimes came to light after information about his hunting trip to Montana was posted on a web site. The page has since been removed from the Internet. [
The D.C. Lobbyist and the Thanksgiving Deer
]. Vasell appeared at a June 22, 2005, Senate Indian Affairs Committee hearing on the Abramoff scandal but refused to testify. He no longer works for Greenberg Traurig but is now a lobbyist for Hewlett Packard. Get the Story:

Ex-Burns, Abramoff staffer pleads guilty in poaching case
(The Helena Independent Record 12/21) Relevant Links:
Sen. Conard Burns -
http://burns.senate.gov
Montana Democratic Party -
http://www.montanademocrats.org
Related Stories:
Burns to return $150K in Abramoff donations
(12/16)
Editorial: Burns should return Abramoff donations
(12/15)
Burns already spent donations from Abramoff
(12/14)
Former Burns aide talks with Abramoff investigators
(12/13)
Editorial: Don't hate Burns, hate the system
(12/12)
Burns wishes Abramoff had 'never been born'
(12/9)
Opinion: Burns worried about public opinion
(12/9)
Sen. Burns to launch Abramoff offensive in January
(12/8)
Sen. Burns wants name cleared in Abramoff probe
(12/7)
Staffer for Sen. Burns went to work for Abramoff
(12/05)
Ex-Abramoff associate charged in Montana for poaching
(08/19)
Sen. Burns took $34K from ex-Abramoff client
(11/30)
Abramoff probe spreads to members of Congress
(11/28)
Abramoff probe looking into Congress, Bush
(11/25)
Montana Democrats to run ads against Burns
(11/22)
Ex-Abramoff associate charged in Montana for poaching
(08/19)
Democrats to make change to Burns, Abramoff ad
(08/10)
Democrat ad criticizes Burns for ties to Abramoff
(8/9)
Democrats received donations from Abramoff tribes
(06/03)
Bloomberg: Abramoff tribes gave $1.4M to Congress
(05/19)
Sen. Burns: Support for Montana tribes is known
(04/18)
Burns says Michigan delegation backed school funds
(04/04)
Editorial: Burns has chance to restore Indian funds
(3/31)
Democrats want Burns to return tribal donations
(03/29)
Burns denies wrongdoing for helping Abramoff client
(03/24)
Chairman: Montana tribes support Senator Burns
(3/18)
Editorial: Facts don't look good for Senator Burns
(03/14)
Editorial: Burns needs better story on Abramoff flap
(3/8)
Firm offers $9M refund to Saginaw Chippewa Tribe
(3/7)
Editorial: A 'Super Bowl' earmark for tribe
(3/7)
Editorial: Burns 'enriched' by Abramoff and tribes
(3/7)
Horse Sense: Burns and Baucus 'cozy' with lobbyists
(3/7)
Burns promises cooperation with Abramoff probe
(3/4)
Editorial: Who do you work for, Senator Burns?
(3/4)
Burns looking into Abramoff ties, Dorgan denies link
(3/2)
Burns, Dorgan backed $3M grant for Abramoff client
(3/1)
Tribal lobbying scandal hurts ex-Abramoff firm
(02/17)
Sag Chip recall targets anti-Abramoff tribal leaders
(02/11)
High-priced lobbyist scam linked to lawmakers
(11/18)
Documents detail lobbyists' role in tribal elections
(10/04)
More hearings slated in tribal lobbyist scandal
(09/30)
Senate hearing on tribal lobbying probe set
(8/26)
Saginaw Chippewa leader who paid lobbyists ousted
(06/04)
Indian Country awaits outcome of lobbying probe
(05/18)
Saginaw Chippewa Tribe wonders where $14M went
(04/20)
Saginaw Chippewa Tribe hires new lobbying firm
(03/09)
GOP lobbyist scores big with tribes
(04/03)
Embattled tribe gets new lobbyist
(12/13)