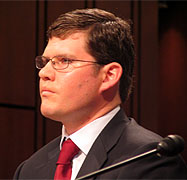 A former staffer for Sen. Conrad Burns (R-Montana) went to work for disgraced lobbyist Jack Abramoff and may have swayed his ex-boss on issues affecting Abramoff clients. Shawn Vasell, pictured at right, worked for Burns as his staff director for Montana. He joined Greenberg Traurig in 2001, where he represented tribes and the Northern Marianas Islands, a U.S. territory. In 2001, Burns voted against a bill that the Northern Marianas opposed. The vote came a day after he received a $5,000 donation from a business owner on the islands, The Missoulian reported. Prior to receiving the donation, Burns didn't oppose the bill, the paper aid. �Burns actually voted for the bill before he voted against it,� Matt McKenna, a spokesman for the Montana Democratic Party, told the paper. �The only thing that happened in between is he got paid.� In 2003, Burns helped the wealthy Saginaw Chippewa Tribe of Michigan obtain a $3 million school grant meant for poorer tribes. Vasell was representing the tribe and his other clients included the Cherokee Nation Enterprises, the business arm of the Cherokee Nation of Oklahoma, and the Mashpee Wampanoag Tribe of Massachusetts [
Senate Records
] . Vasell no longer works for Greenberg Traurig. He appeared at a June 22, 2005, Senate Indian Affairs Committee hearing but refused to testify, citing his constitutional rights. Get the Story:
Burns did about-face after cash from lobbyist
(The Missoulian 12/4) Relevant Links:
Sen. Conard Burns -
http://burns.senate.gov
Montana Democratic Party -
http://www.montanademocrats.org
Related Stories:
Sen. Burns took $34K from ex-Abramoff client
(11/30)
Abramoff probe spreads to members of Congress
(11/28)
Abramoff probe looking into Congress, Bush
(11/25)
Montana Democrats to run ads against Burns
(11/22)
Ex-Abramoff associate charged in Montana for poaching
(08/19)
Democrats to make change to Burns, Abramoff ad
(08/10)
Democrat ad criticizes Burns for ties to Abramoff
(8/9)
Democrats received donations from Abramoff tribes
(06/03)
Bloomberg: Abramoff tribes gave $1.4M to Congress
(05/19)
Sen. Burns: Support for Montana tribes is known
(04/18)
Burns says Michigan delegation backed school funds
(04/04)
Editorial: Burns has chance to restore Indian funds
(3/31)
Democrats want Burns to return tribal donations
(03/29)
Burns denies wrongdoing for helping Abramoff client
(03/24)
Chairman: Montana tribes support Senator Burns
(3/18)
Editorial: Facts don't look good for Senator Burns
(03/14)
Editorial: Burns needs better story on Abramoff flap
(3/8)
Firm offers $9M refund to Saginaw Chippewa Tribe
(3/7)
Editorial: A 'Super Bowl' earmark for tribe
(3/7)
Editorial: Burns 'enriched' by Abramoff and tribes
(3/7)
Horse Sense: Burns and Baucus 'cozy' with lobbyists
(3/7)
Burns promises cooperation with Abramoff probe
(3/4)
Editorial: Who do you work for, Senator Burns?
(3/4)
Burns looking into Abramoff ties, Dorgan denies link
(3/2)
Burns, Dorgan backed $3M grant for Abramoff client
(3/1)
Tribal lobbying scandal hurts ex-Abramoff firm
(02/17)
Sag Chip recall targets anti-Abramoff tribal leaders
(02/11)
High-priced lobbyist scam linked to lawmakers
(11/18)
Documents detail lobbyists' role in tribal elections
(10/04)
More hearings slated in tribal lobbyist scandal
(09/30)
Senate hearing on tribal lobbying probe set
(8/26)
Saginaw Chippewa leader who paid lobbyists ousted
(06/04)
Indian Country awaits outcome of lobbying probe
(05/18)
Saginaw Chippewa Tribe wonders where $14M went
(04/20)
Saginaw Chippewa Tribe hires new lobbying firm
(03/09)
GOP lobbyist scores big with tribes
(04/03)
Embattled tribe gets new lobbyist
(12/13)