The following photos were taken at the
Senate Indian Affairs Committee
field hearing on President Bush's fiscal year 2007 budget. The hearing was held at the United Tribes Technical College (
http://www.uttc.edu
) in Bismarck, North Dakota, on Thursday, February 23, 2006. All Photos are courtesy of United Tribes News.
Sen. Byron Dorgan
(D-North Dakota), the vice chairman of the committee.
Ken Davis, the chairman of the
Turtle Mountain Band of Chippewa
, testifies.
Tex Hall, the chairman of the
Mandan, Hidatsa and Arikara Nation
; Myra Pearson, the chairwoman of the
Spirit Lake Nation
; and Chairman Davis.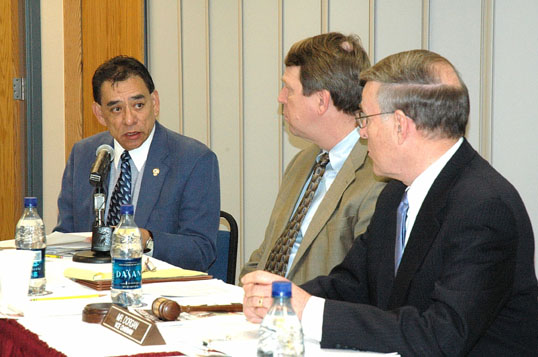 David Gipp, the president of United Tribes Technical College addresses Dorgan.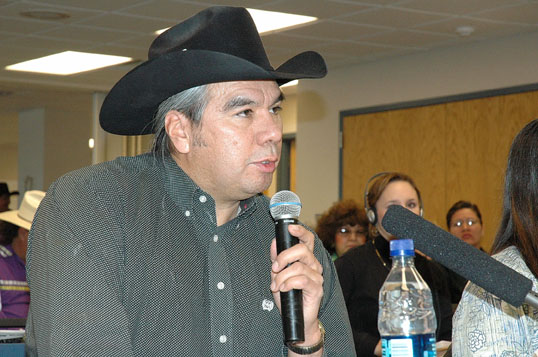 Chairman Hall testifies.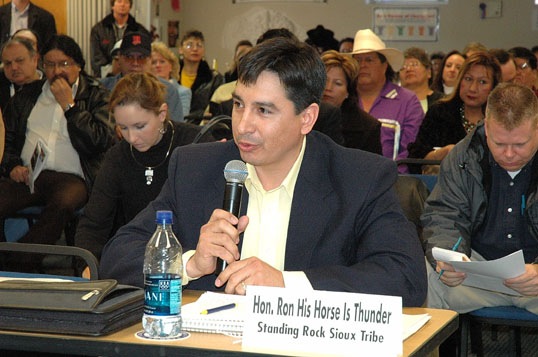 Matt Lopez, a council member for the
Standing Rock Sioux Tribe
, testifies on behalf of Chairman Ron His Horse Is Thunder.
Chairwoman Pearson. FY2007 BIA Budget Request:
Bureau of Indian Affairs Budget
|
Departmental Offices [includes Office of Special Trustee]
FY2007 DOI Budget Documents:
Fulfilling Trust Responsibilities
|
Serving Tribal Communities
|
Protecting Lives, Resources, and Property [includes Safety in Indian Country]
|
Budget in Brief
|
Interior Department [from the White House]
FY2007 IHS Budget in Brief:
HTML
|
PDF
White House OMB Report:
Major Savings and Reforms in the President's 2007 Budget
(February 2006) Relevant Links:
White House Office of Management and Budget-
http://www.whitehouse.gov/omb
Related Stories:
Montana urban Indian clinics oppose Bush cut
(2/23)
Dorgan to hold hearing on FY2007 budget at UTTC
(2/22)
Opinion: Republican presidents pick on urban Indians
(2/22)
Editorial: Save urban Indian health program
(2/21)
Urban Indian health cut to affect 6,500 in Montana
(2/20)
Bush budget comes under fire at hearing
(2/15)
Listening Lounge: Hearing on FY2007 budget request
(2/14)
Elimination of urban Indian health care opposed
(2/14)
Bush budget details Indian program cuts
(2/10)
Budget includes money for DOI Indian museums
(2/9)
Johnson calls Bush's Indian budget inadequate
(2/8)
BIA budget suffers cut for yet another year
(2/7)
IHS gets another boost under Bush budget
(2/7)
Tom Cole blasts Interior for cutting BIA funds
(2/6)
Cuts to Indian programs feared as Bush rolls out budget
(2/6)
Garcia turns to Four Directions to guide Indian Country
(02/03)
Bush punishes BIA budget to pay for Cobell
(02/02)
BIA contract funds lost to Iraq, Afghanistan wars
(06/28)
Bill calls for tribal consultation on BIA budget
(05/31)
Interior budget bill orders land-into-trust study
(5/27)
House panel acts to restore Bush budget cuts
(05/05)
Editorial: Cuts in BIA budget 'unacceptable'
(04/06)
Editorial: Burns has chance to restore Indian funds
(03/31)
Budget blueprints leave Bush's Indian cuts intact
(03/28)
Chief Gray: Very little tribes can do on BIA budget
(3/25)
Bush budget test inconsistent on Indian programs
(3/16)
Panel rejects President Bush's budget priorities
(3/8)
McCain lays out Indian agenda for 109th Congress
(3/7)
Senator angles for better 'defense' on Bush budget
(02/24)
Senators blast budget cuts to Indian programs
(2/17)
School construction fared poorly on White House test
(02/14)
Indian education funds reduced by Bush budget
(2/10)
Official cites 'tight' budget for Indian housing
(2/9)
BIA budget cut by $110M for fiscal year 2006
(2/8)
IHS escapes Bush administration's chopping block
(2/8)
New Bush administration budget slashes programs
(2/7)
Bush administration rolls out fiscal year 2006 budget
(2/7)
State of Indian Nations address lays out broad agenda
(2/4)
Bush to shift housing grant programs to Commerce
(2/4)
Congress kicks into gear for 109th session
(1/25)
Johnson expects tough times for Indian initiatives
(01/18)
Bush administration to cut major HUD program
(01/14)
Study shows impact of gaming in Indian Country
(01/10)
Pombo cites achievements in 108th Congress
(12/16)
Big changes in store for 109th Congress
(12/14)
Indian advocates urge cooperation in Washington DC
(11/05)
Bush to seek $70B more for Iraq, Afghanistan
(10/26)
Data shows little change in economic status under Bush
(08/27)
Bush says housing program he's cutting is 'working'
(08/12)
Indian housing funds face cuts in Bush budget
(04/14)
Tribes tackle budget woes under Bush administration
(4/14)
Budget resolution barely clears House vote
(03/26)
Tribal leaders denounce BIA budget plans as reckless
(03/24)
Cuts run deep for tribal programs at BIA
(03/09)