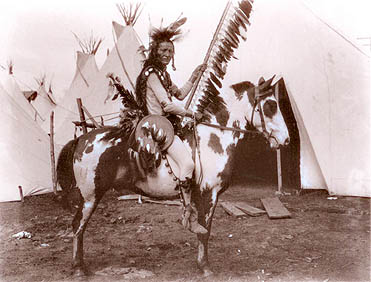 Sherman Bear Ribs, Jr., stood at the counter in my office last week at the Native Sun News and we talked about one of the great Hunkpapa Chiefs, his great, great grandfather named Bear Ribs. He was named the "Paper Chief" of all the Lakota after the death of Conquering Bear. As Sherman and I talked I noticed a small Lakota woman standing near the wall behind him. She listened carefully to our conversation and finally nodded to herself as if to say, I think everything is alright. She then left the office without a word and as Sherman and I continued our conversation she very quietly came back into the office and stood by the counter. She waited respectfully until Sherman finished what he had to say and then she approached the counter with a folder filled with papers in her hand. As she explained to me the meaning of the documents she handed to me one at a time, I was amazed at the research she must have put into collecting these ancient documents. Her name was Diane Comes Out Holy Two Sticks and she was the great, great granddaughter of Chief Comes Out Holy Two Sticks. The story of Chief Two Sticks is one of tragedy. Considered by many to be a great Lakota (Sioux) leader, Two Sticks became one of the infamous statistics in the wars between the white invaders and the Lakota. Two Sticks was accused of conducting a raid on a herd of cattle belonging to the Humphrey cattle ranch on the White River about 30 miles west of the Pine Ridge Agency. The cattlemen immediately sent word to Captain George LeRoy Brown of the 11th Infantry. Brown telegraphed Ft. Meade near Sturgis, South Dakota and tribal police were ordered to arrest Two Sticks. When they arrived at his camp a gun fight ensued and five of the policemen were killed and the one was wounded. Two Sticks escaped from the attempted arrest. Two Sticks and his followers then ran into some cowboys from the Humphrey ranch and during a heated shootout, four of the cowboys were killed. Joe Bush led a party of 25 tribal policemen to the camp of Chief No Waters where Two Sticks was holed up and another gun battle followed. First Eagle, Two Two, and White Faced Horse were killed in the shootout. Two Sticks was badly wounded. Chief Two Sticks was transported to Deadwood where he was tried and sentenced to be hanged on December 28, 1894, just four years and one day short of the horrible massacre at Wounded Knee. Tickets for the execution went on sale immediately. The tickets read: "You are invited to attend the legal execution of Cha Nopa Uhah, alias Two Stick, at Lawrence County Jail, in Deadwood, S. D., December 28, 1894 at 10 o'clock A.M." Chief Two Sticks had said at his trial that the cowboys were killed by White Faced Horse, Fights With, Two Two, and First Eagle "I have killed many Indians, but I have never killed a white man," he said. At his execution as he stood on the gallows, Two Sticks said, "My heart knows I am not guilty and I am happy. I am not afraid to die. I was taught that if I raised my hands to Wakan Tanka (God), and told a lie, that God would kill me that day. I never told a lie in my life." As the noose was placed around his neck Chief Two Sticks sang his death song. He was dropped through the trapdoor and, according to the reports, "his death was instantaneous." He was placed in a pine box and buried outside of the gates of the regular graveyard because the citizens of Deadwood did not want the body of an Indian contaminating their graveyard. All of his possessions were given away including his cunnupa, his Sacred Pipe. The pipe was put on display in the Adams Museum in Deadwood until Diane and her family pursued its return. On December 9, 1998, the museum repatriated his Sacred Pipe to his great grandson, Richard Swallow, Sr. and the Oglala Lakota Tribe in compliance with the Native Americans Graves Protection and Act of 1990. The descendants of Chief Comes Out Holy Two Sticks have always believed that the United States hanged an innocent man. When he said, "My heart knows I am not guilty and I am happy. I am not afraid to die," his family believed him then and his descendants believe him now. In an act of acrimony, the Black Hills Daily Times reported his death on December 29, 1894 with the headline, "A Good Indian," snidely referring to the infamous saying, "The only good Indian is a dead Indian."
Tim Giago, an Oglala Lakota, is the publisher of Native Sun News. He was the founder and first president of the Native American Journalists Association, the 1985 recipient of the H. L. Mencken Award, and a Nieman Fellow at Harvard with the Class of 1991. He can be reached at editor@nsweekly.com.
More Tim Giago:
Tim Giago: McDonald's mentality needs revamp
(6/29)
Tim Giago: National health care debate and IHS
(6/22)
Tim Giago: South Dakota restricts tribal growth
(6/15)
Tim Giago: No more status quo for BIA education
(6/8)
Tim Giago: Being Indian and being independent
(6/1)
Tim Giago: Let Oglala Sioux president do her job
(5/27)
Tim Giago: Memorial Day speech at Black Hills
(5/25)
Tim Giago: Small victories in battle against mascots
(5/18)
Tim Giago: A day of tribal victory at Little Bighorn
(5/11)
Tim Giago: Negative Native images in the news
(5/4)
Tim Giago: Resolving ownership of the Black Hills
(4/27)
Tim Giago: Good things and bad things come in April
(4/20)
Tim Giago: An open letter to South Dakota governor
(4/13)
Tim Giago: Nostalgia and South Dakota blizzards
(4/6)
Tim Giago: An older brother who paved the way
(3/30)
Tim Giago: Sticks and stones and Charles Trimble
(3/17)
Tim Giago: Pine Ridge team triumphs at tournament
(3/16)
Tim Giago: Announcing the Native Sun News
(3/9)
Tim Giago: No winners at Wounded Knee 1973
(3/5)
Tim Giago: The real victims of Wounded Knee 1973
(3/2)
Tim Giago: No outrage over abuse of Natives
(2/23)
Tim Giago: A perspective on the fairness doctrine
(2/16)
Tim Giago: Throwing Tom Daschle under the bus
(2/9)
Tim Giago: Native people out of sight, out of mind
(2/2)
Tim Giago: Native veteran loses fight against VA
(1/26)
Tim Giago: The Wellbriety Journey for Forgiveness
(1/19)
Tim Giago: The stolen generations in the U.S.
(1/12)
Tim Giago: Indian Country looks to Tom Daschle for help
(1/5)