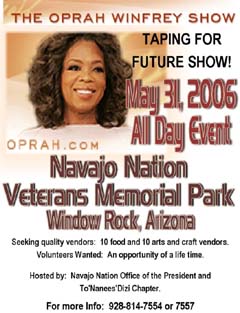 The Oprah Winfrey Show is dispelling rumors that the television megastar is coming to the Navajo Nation. Rumors spread like fire after a flyer claimed Winfrey was going to tape a show in Window Rock, Arizona, the capitol of the Navajo Nation. But her production company said she isn't coming to the reservation. The source of the flyer is unknown but George Joe of Rez Biz Magazine traces it to Navajo Nation President Joe Shirley's office. On his blog, he said the Oprah show wanted the taping to be a surprise but "high-level" tribal officials spilled the beans. Get the Story:
Oprah rumor creates frenzy
(The Gallup Independent 5/25)
George Joe of RezBiz: Oprah coming to the Navajo Nation?
(5/25) Relevant Links:
Oprah -
http://www.oprah.com